Webinar

January 24th, 2021
Avelo Airlines & The Road Ahead for the Airline Industry
---
Few industries were hit harder by COVID-19 than the airline industry. In 2020, airline pre-tax profit margins were down nearly 60% from the previous year, and although things have improved, the airline industry is still struggling to return to normal.1
In spite of the challenges posed by the pandemic, Avelo Airlines had its inaugural flight on April 28, 2021—the first time a new mainline airline has launched in the U.S. in almost two decades. On January 24, Avelo Airlines Founder & CEO Andrew Levy will join XML's CEO & Co-founder, Brett Bernstein, to talk about Avelo and what's next for the airline industry. Andrew will discuss:
The story behind the launch of America's first new mainline airline in nearly 15 years
Navigating the headwinds and tailwinds of introducing a new airline in the midst of a global pandemic
The opportunities and challenges ahead for Avelo and the airline industry
How Andrew's extensive industry experience helped him build a different and better kind of airline
Register for this webinar by filling out the form below:
---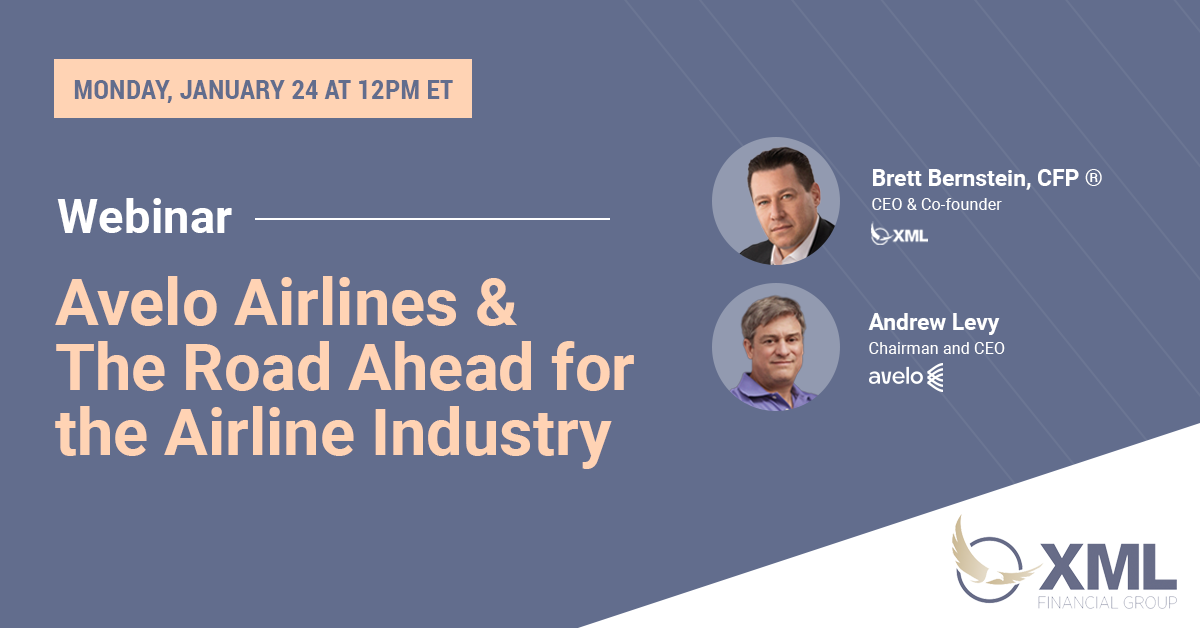 This webinar is for educational and informational purposes only. Content is not intended to be a recommendation, solicitation or endorsement of any company, strategy or service discussed nor should it be perceived as individual advice.
Andrew Levy
Andrew Levy is Founder, Chairman, and CEO of Avelo Airlines. Andrew was previously a co-founder and president of Allegiant Air and chief financial officer at United. He is a board member of Copa, the leading Latin American airline. Andrew is fluent in Spanish, due to his Argentine roots. When he's not running a brand-new airline, he enjoys playing tennis, traveling and spending time with his family.
Brett Bernstein
Brett Bernstein is the CEO and Co-founder of XML Financial Group. He serves as the firm's head of financial planning and manages the operations of the firm, including the firm's M&A strategy. Brett is an active financial advisor assisting clients with his holistic approach to goal-setting and problem-solving. Prior to co-founding XML in 2004, he was a Vice President and Senior Financial Advisor at Merrill Lynch, where he was designated Producing Sales Manager for a complex that managed over $5 billion in assets. Brett is a serial entrepreneur actively investing in many start-up companies and has led his firm in acquiring two local wealth management firms. This entrepreneurial spirit has led Brett to be active at the Dingman Center for Entrepreneurship at the University of Maryland's Robert H. Smith School of Business as an Advisor and Subject Matter Expert. Additionally, Brett volunteers his time to the Bullis School's entrepreneurial program, sponsoring the Capstone Entrepreneurial Shark Tank competition.
1 Airlines for America, Impact of COVID-19: Data Updates. (Link)