Webinar

November 12, 2020
Long-Term Care Essentials
---

Many of us define retirement by the things we are able to do; for example, travel more, spend more time with friends and family, or take up a new hobby. But for almost 70% of people turning 65 this year, at least part of their retirement will be defined by what they are not able to do. The aging process can make it more difficult to manage everyday tasks, and in order to maintain your quality of life, you may need long-term care.

On Thursday, November 12th at 12:00 PM, we're holding a webinar to discuss the essentials of long-term care. Blayney Del Priore and Kevin Patrick Peters of Lifestyle Life Insurance will be joining us to offer their insights into long-term care, including:
The rising cost of long-term care nationwide
The impact of long-term care costs on your family and finances
Tax advantages for long-term care solutions
How the landscape of long-term care has changed
Register for this webinar by filling out the form below:
---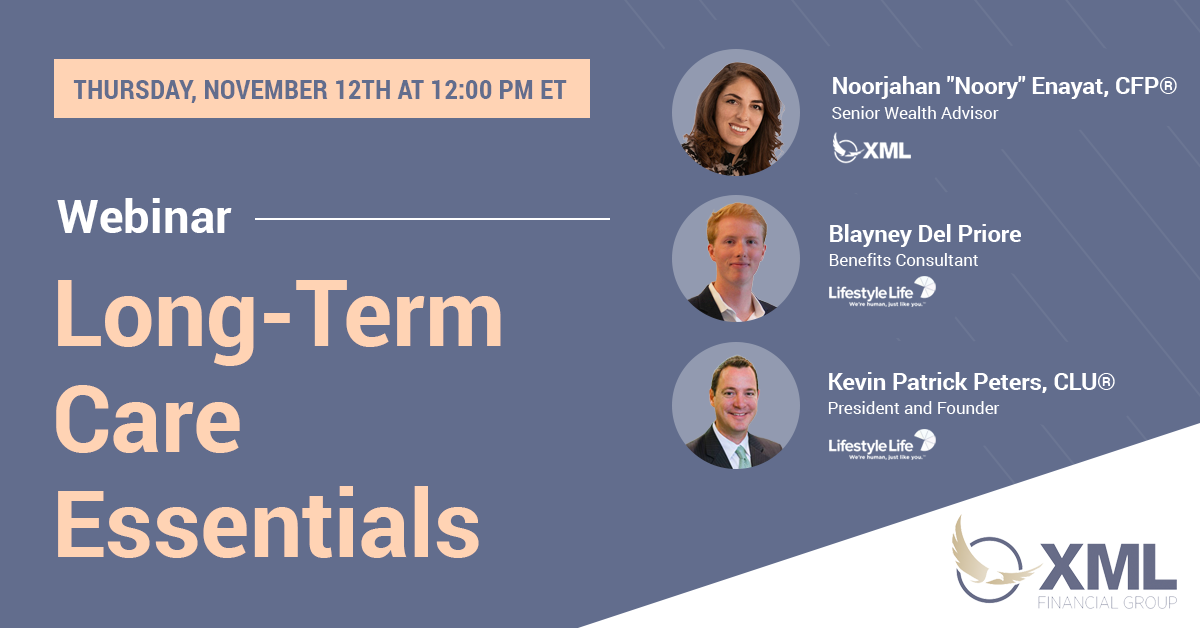 Noorjahan "Noory" Enayat, CFP®
Noorjahan "Noory" Enayat is a Senior Wealth Advisor and member of the XML Investment Committee, with a fiduciary duty and commitment to act in her clients' best interests as a CERTIFIED FINANCIAL PLANNER® professional. Her focus is on goal-oriented advice and holistic financial planning that inform the investment strategies for each client's unique needs and objectives. Noory advocates empowering consumers through financial literacy because knowledge and choice is power. Her mission is to take the worry out of planning, building and managing her clients' wealth so that they can spend their time focusing on the things that they love and enjoy.


Blayney Del Priore
Blayney Del Priore is the benefits consultant for Lifestyle Life insurance and a Medicare advisor with Medicare Portal. A fully licensed and certified insurance agent in Maryland and Virginia for Life, Health, and Medicare Insurance and with years of experience, Blayney specializes in Medicare, Medicare Supplement Plans, and Medicare Part D Plans in our area. Blayney takes pride in making a complex topic easier to understand and less stressful for his clients, and looks to continuing to build his book of business in helping seniors in our community.


Kevin Patrick Peters, CLU®
Kevin Founded Lifestyle Life Insurance with the goal of offering independent unbiased Insurance Services that are in the best interests of his clients. Lifestyle Life Insurance offers Life, Disability and Long-Term Care Insurance, as well as Medicare and Health Insurance Planning. Kevin is one of the founding members of the Washington, DC metropolitan chapter of the National Aging in Place Council (NAIPC), which assists in providing education and resources to the local aging population. Kevin has over 20 years of independent insurance experience.